previous | PBPArchives' original archive | home | next
Chapter 2: Escape
Cautiously, Chelydra approached the robot. He remained alert as he bent down towards the severed arm with the small pistol, expecting the robot to lash out at him at any moment. He retrieved the pistol and backed away towards his pod. Chelydra straightened and took a deep breath. Having been the robot's quarry was an experience which he would not easily forget. Looking at the pistol, another memory sparked! "I remember these," Chelydra said. He casually tossed it to Percy, "It's a stun pistol."

Percy excitedly fumbled with the pistol before gaining control of it. His eyes scanned everyone, but no one seemed familiar to him. Holding the pistol, he felt a flicker of uncertainty, as if waiting for himself to change his mind. Defeating the robot still felt good, even if he hadn't actually participated in the battle. Percy raised one eyebrow and smiled, "Oh, by the way, I'm Percy," he managed.
"I'm Chelydra," he offered with a nod.
Nike had been searching the area, but had found nothing of value except the metal wrench. She was examining the patch on her uniform, with a WARDEN identical to Percy's, but with the letters "Mar/Tech/fcs" in red below it.

Not looking up, she replied, "I'm Nike." Her voice was meditative.
She was unable to recall her primary duties aboard the ship, and felt a little befuddled. Still, she assumed that her belongings would contain clues. She has been in too much of a hurry to look before---her primary goal had been to dress and determine the intent of the hostile-looking robot. She wanted to find out more about herself in order to contribute all that she could to this group's survival. "Excuse me for a moment," she began, "I'm going to go look through my things and try to sort some of this out while we have a spare moment."
"Be back," she called over her shoulder as she walked to her pod and began to look in the drawers.
Percy tucked the pistol into the top hem of his trousers. "Thanks, I think," he said to Chelydra. "Something definitely went wrong with the cloning program. My memory is full of gaps and I have a terrible headache!" he explained, pointing to his head. He jerked a thumb at the robot. "And, I think something went wrong with that food-processing robot! Although that's pretty obvious, don't you think?" Percy tried out a chuckle.
Then Percy noticed the carapace on Chelydra's backside. "Waaaaiiitaminute, what happened to you?" He gasped when he saw the carapace-covered man and his, well, carapace covering. He couldn't help but take a half-step backward in amazement. Not quite horror, but definitely surprise. "Does it, ah, does that hurt?"
"No, Percy, it doesn't hurt. I feel fine, but not myself. I'm not sure who I am, but I'm sure I wasn't a turtle before. I can't even remember my proper name."
A flickering vid-screen at the far end of the hall caught Percy's attention. He saw Zhaxier in the chair, obviously trying to operate it. "Maybe I can help out with that computer," he thought to himself. Still uncertain of the knowledge---like Swiss cheese, for all its missing pieces---swimming around in his head, Percy nevertheless felt an inner confidence and thought he could be of some use sitting in front of a computer monitor. But instead, he moved cautiously toward the robot, or what was left of it, and investigated the appendages and the still-sparking unit.
"Let's see now, Mister Food Processing Robot ..." Percy cautiously stepped forward and examined the deactivated robotic food processing unit. The production serial numbers read FPD-CHA-19207. Bending down to check the robot's small display panel under one of its arms, he clearly saw that the unit had been fried by its own internal heat. Pushing a button on one arm near the wrist, Percy released the robot's hypodermic injector. The needle injector looked very much like a pistol, with no visible needle. It had been a simple robot and it could have been reprogrammed had it not been destroyed, he thought, wondering why he found the unit so fascinating.

Percy opened his belt pouch and carefully placed the needle injector in it, with the nozzle facing away from him. It fit snuggly beside a hard, black plastic, pocket toolkit. He opened the tookit, hoping that its contents would stir some memory. It held a pair of tweezers, a mini-laser welder, some kind of hooked tool that he didn't recognize--although he thought he should have, a pair of mini-pliers and a featureless ID card. No new memories came to him.
As Nike walked back to her cloning pod, the gathering weight of memories oppressed her mind like fingernails grating across a chalk-board. Images swirled within a semblance of a window frame as well-remembered faces rose before her. Shaking her head to clear the troublesome thoughts, Nike knelt and pushed the button opening the drawer at the bottom of her pod. It opened slowly. Inside the drawer was a combat knife in a holster with a leg strap. Beside it was a clip-on ID badge with her picture on it. It read:
Captain Nike Thomason
Marines/Tech/Field Forces
XO-Bay Thirty Seven-G
SC Clearance Blue
XOGH12983MTFF
Back then, her hair was much longer, but the picture was hers.
12:44 SCAN CLONE BANK POD ROOM
12:44 ACTUATING PROGRAM IN PROGRESS
12:46 CONTINUING SURVEILLANCE-LINK
.........-STATUS FOUR INDIVIDUALS
12:47 ROBOT DESTROYING - TEST ONE
12:49 INITIATE PROGRAM:
.........-FAIL SAFE 2
.........-OPEN DOOR 00498 AND DOOR 00561
At the far end of the chamber, Zhaxier uprighted the nearby chair and sat down to examine his options. Zhaxier couldn't help but look back at the other clones over 75 meters away, milling around the now-wrecked robot. He wondered if they too were having the same doubts he was. Zhaxier's veins, pumped full of fresh adrenaline, nearly caused him to jump out of his 2-pocket boxers when the door next to him opened with a disarmingly gentle, swishing sound. For a second, Zhaxier's heart skipped a beat, but only silence and the light from the corridor beyond entered. The door remained open as if by command.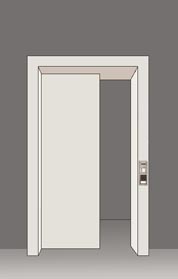 Turning back to the vid-screen, Zhaxier scanned the listed options:
01 INITIATE CODE RED
02 START CLONE PROCESS
.........A) LIST POD NUMBER (---)
.........B) LIST ID NUMBER (---)
03 LIST TARGET NUMBER (---)
04 LIST TRANSFER NUMBER (---)
05 INFORMATION/SUBJECT DATA
.........A) LIST ID NUMBER (---)
06 ENVIRONMENTAL CONTROLS
.........A) LIST TEMP (---)
.........B) LIST HUMIDITY FACTOR (---)
07 REQUEST SERVICE BOT
.........A) LIST TASK NUMBER (---)
08 REQUEST MAINTENANCE BOT
.........A) LIST BOT NUMBER (---)
At the bottom of the screen was a blinking red message: "SECURITY ID NOT LISTED UNDER THIS TYPE OF WORKSTATION USAGE. A SECURITY ROBOT IS BEING DISPATCHED TO INVESTIGATE. PLEASE WAIT FOR IT TO ARRIVE."
"Frak!" His kidneys lurched with the autonomous command to squirt more stimulant. Whipping around to his pod-mates, he yelled, "Hey, we're gonna have company! A security robot is on its way!"
Down the hall, Chelydra blinked as what Zhaxier yelled out penetrated. Nike had heard him also and felt the adrenaline beginning to pound. It felt natural, and gave her a high that she recalled fondly. "Security robot is not good news for us. We should go," Chelydra said and Nike nodded her assent before they both headed toward Zhaxier. Percy urgently continued scavenging useful bits of hardware from the robot, and deposited them in the robot's empty bag.
Zhaxier got up and took two steps toward his fellow clones, but then he back-tracked, sat down again, and entered the number on his card into option 5A of the computer's displayed menu. Presumably, he reasoned, it was a copy of the "real" Zhaxier's ID card, though no features appeared on its plastic faces, save the number and a black strip. "Might as well figure out who the frak I am while I still am."
A random thought slipped past the veil of his consciousness as his finger paused above the "enter" key. He was momentarily filled with hope: this terminal could tell him about his fellow crewmate, the woman whose tantalizing presence he could sense through the blindfold covering his mind's eye. As quickly as it arrived, the thought vanished into the chasmal voids that peppered his memory: he didn't know her ID number. He pressed the key.
"Come on, come on!" he pleaded into the vid-screen.
Zhaxier jumped from his chair in horror when the vid-screen changed. It showed a long-dead skeleton. Even in his shock, Zhaxier noted the words "KAMINSKY MD4" at the bottom of the screen. At the top of the vid-screen, "LOG VID S8346" replayed in a continuous loop. Someone had set this up for him to see.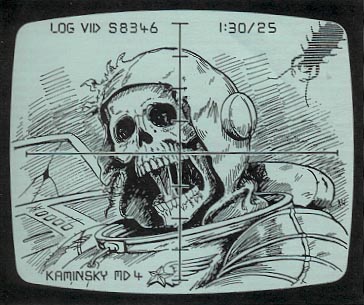 12:50 SCAN CLONE BANK POD ROOM
12:51 ACTUATING PROGRAM IN PROGRESS
12:53 CONTINUING SURVEILLANCE-LINK
.........-STATUS FOUR INDIVIDUALS
12:54 COMPUTER BEING ACCESSED
12:55 INITIATE PROGRAM:
.........-FAIL SAFE 2
.........-SEND SECURITY ROBOT ASAP
Nike was the first to reach Zhaxier. "Hey, can't you stop that thing from coming in here with that terminal? It looks like I have security clearance."
Zhaxier was still unnerved by the image of Kaminsky, and anxious about the approaching security robot, and the attractive fem reminded him of the fact that he was only wearing boxers. Thank the maker his former self hadn't left him with "party panties," he thought. Where the frak had that thought come from? Zhaxier's body, unbeknownst to his mind, blended out of sight, leaving only his boxers visible. "I don't have security access, that's why the 'bot was dispatched. Give your card a shot." Zhaxier noted her reaction to the gruesome vid-screen display, and hit a button to return to the main menu. "I entered my card number under option 5A and that's what it gave me," he explained. "Try yours, quickly!" The chair moved away from the desk and the disembodied boxers floated away as well. "Why is she looking at me that way?" he wondered.
Before Nike could try her ID card, power to the vid-screen was cut off and the screen went black. Zhaxier's eyes took on a faraway look, although Nike couldn't see them with his chameleon power in effect.
12:55 SCAN CLONE BANK POD ROOM
12:55 ACTUATING PROGRAM IN PROGRESS
12:55 CONTINUING SURVEILLANCE-LINK
.........-STATUS FOUR INDIVIDUALS
12:56 DENYING COMPUTER ACCESS INITIATED
12:56 INITIATE PROGRAM:
.........-FAIL SAFE 2
.........-SECURITY ROBOT ETA 2 MINUTES
Chelydra finally arrived at the computer terminal. He pointed his shotgun at the open door and looked into the corridor beyond. Grimly, Chelydra's gaze turned inward. He shook his head slowly at the strange being he had become. His mood seemed to change at every step. The words, "Open yourself to me; absorb from me my wisdom and experience and power. In this way you will carry on my life and work," entered his mind. He couldn't remember who had said it.
To his left, he saw a long, well-lit and empty corridor with dozens of doors. To his right, 120 meters away, he saw a large, man-sized robot on rubber tracks approaching. One arm was a claw and the robot was armed with a heavy laser. He slapped the door lock, and shuddered as the door closed instantly. His training told him something was about to happen---something very bad. Persuasive influence was unnecessary; the need for flight was at the forefront of his mind. The only means of escape left was the other door at the far end of the clone bank room 150 meters away. The security robot would arrive soon, and he knew a shotgun would not destroy an armored security bot.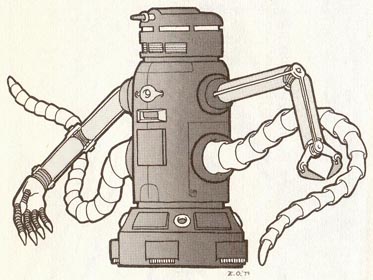 "Incoming! Security bot, ETA 2 minutes, presumed hostile, considered armed and dangerous. Request backup." His shout was reflexive, and Chelydra was not fully certain of its meaning. "I suggest we try the other door, unless you guys have a better idea." None were forthcoming.
The door lock panel exploded into a shower of sparks as a heavy laser burned straight through it like Caxiathan butter. "I don't want to get shot again, kind of louses up your whole morning, Come on!" Chelydra added as he turned and fled down the clone bank room.
Zhaxier realized that his mutation had already kicked into action. He quickly dropped out of his boxers and held them in front of him, to become as undetectable as possible, and ran down the right side of the long lab.
"C'mon!" Zhaxier's disembodied voice yelled to Nike.
"Holy Shit!" she yelled, racing for the door on the other side of the bay, careful to use cloning pods and tables on the left side of the hall as cover on the way. "Why does being a moving target not feel unfamiliar?" she wondered to herself as she felt the not so unfamiliar surge of adrenaline. Her muscles began to twitch with anticipation. "Well hey," she thought, "at least the turtle-boy makes a wider, more appealing target!" Grinning in her mind's eye, she ducked behind another pod.
Chelydra passed Percy, who was on his knees removing the food processing robot's external control panel. For some strange reason, Percy felt it was salvagable, and might be adapted to a variety of uses, including opening and controlling damaged items. Percy didn't know exactly how he knew this. As Chelydra sprinted by, Percy placed the panel inside the food processing robot's empty cloth bag, as well as some wiring from the ruined robot. He stood and sprinted after Chelydra.
Percy turned back for a second, hoping to see Nike and the other clone close behind, but there was only Nike. He saw a pair of crumpled-up, black, silk boxers bouncing in mid-air and moving in his direction. "I'm hallucinating!" he thought to himself. He slowed as he approached Chelydra at the door.
12:57 SCAN HALL 569870-K4
12:58 LOCATION CHANGE IN PROGRESS
12:59 CONTINUING SURVEILLANCE-LINK
.........-STATUS FOUR INDIVIDUALS
12:59 SECURITY ROBOT IN CLONE BANK
13:00 CONTINUE PROGRAM:
.........-FAIL SAFE 2
.........-TERMINATE WITH PREJUDICE
Astonished, indignant, and his breath somewhat labored from the running, Chelydra touched the electronic pad beside the door. He didn't want this room to hold his epitaph, as it may have for others before him. The lines in his face shifted to a smile as the door made a swishing sound as they slid open.
Chelydra liked the thought of controlling the events around him, not the events controlling him. In this situation he had little choice but to react. Taking the shortest distance possible from trained experience, Chelydra side-stepped out the door, and placed his back to the wall for 100% cover. He tightened his teeth indignantly and waited.
Scanning the hall nervously, he saw that the corridor continued to his right about 15 meters and dead ended at a door. To his left, the corridor continued about 60 meters, spanning three evenly spaced doors on the right wall. Only darkness could be seen beyond that because the lights were off.
Percy slowed as he approached the door, noticing the slickness of the floor and its potential to bust one's ass if one wasn't careful. Percy's eyes tingled with disapproval and uncomplaining seriousness as he glanced over his shoulder at the far end of the room 150 meters away, where the security robot was pulling the door open by force and entering the clone bank. His items in hand, Percy exited the door and continued around the corner to Chelydra's left.
A cloning pod beside Nike exploded in a shower of sparks and a torrent of debris as she passed it. Resistance was one thing, but a rendezvous with a firing security robot was not on Nike's list of things to do. Nike whispered the words, "Luck to fools and idiots under fire," risking everything as she continued to run. Nike didn't remember from where that saying came. The heat of the heavy laser blackened the wall as Nike exited the room just a meter ahead of Zhaxier. It missed Nike by not more than the span of a hand.
As Zhaxier raced toward the door behind Nike, he slipped on the slick floor and fell on his back, his flesh blended to match the metallic color of the floor. Zhaxier scrambled on his hands and knees through the doorway yelling, "Close it, CLOSE IT, CLOSE IT!" Chelydra tapped the closing mechanism, and Zhaxier crouched on the floor for a moment after he heard the swishing sound of the door sliding shut. He longed for a data pad in his hand and a comfortable chair---a far cry from his current situation. He scrutinized the motley group he had unwittingly joined. Slowly, he stood.