previous | PBPArchives' original archive | home | next
Chapter 6: Catch-Up
14:01 SCAN LOCATION HALL 569181-K4
14:02 PROCEDURE BETA INITIATED
14:03 CONTINUING SURVEILLANCE-LINK
.........-STATUS: 3 INDIVIDUALS IN HALL 569181-K4
.........-SECURITY ON SITE / EXITS (RK)
14:04 CONTINUE PROGRAM:
.........-FAIL SAFE 2
.........-CONTAIN B2 GROUP 2 / IN HALL
Tinker considered everything and its possible use."Claus, don't lose that rifle, I think I can add the thermal imaging scope to my sensor suite!" Claus only hissed in reply and then gave a blank look, wondering how he could possibly lose a rifle unnoticed. Tinker grabbed a laser rifle and the other laser pistol for himself, then threw the other laser rifle to Zhaxier.

laser rifle
Zhaxier caught the laser rifle with his elbows, as his hands were full. "Man, this is not gonna do," he sighed, feeling his pulse quickening at Claus' warning. He dumped his possessions on the table, and quickly stuffed the data pad, holo projector and ID card in the medi-kit bag. He then extracted the hydrogen energy cell from the laser rifle exactly as Tinker had done to his laser pistol (as they were the same mechanisms/cells). He placed the cell in a small hidden pouch in the medi-kit bag, noticing as he did so that the pouch already contained a pair of sun glasses, 3 matches, and 2 cigarettes. The rifle he discarded.
"You're not taking the rifle?!" Tinker puzzled.
"Nyah, too bulky." Zhaxier dumped the extra cell in his bag.
Tinker's shoulder's rose and fell, in imitation of a shrug before turning his attention to the shotgun that was still inside the open cabinet. Using his duralloy cutting torch, Tinker cut off most of the barrel and then trimmed the stock in moments. He then tossed the sawed-off shotgun over to Claus who conscientiously avoided touching the overly warm areas of the newly defined weapon. "It's more your style!" Tinker looked over his newly armed comrades. "Any ideas anybody?"
"In here we're sittin' ducks, Tinker! Let's vector this sector and book this nook!" Zhaxier said excitedly as he blended into the background with a flash. He found it easy to shift into his blended state when his pulse was racing. The air where Zhaxier stood wavered and rippled as he spoke. "I'll check out the 'vator," Zhaxier said, but all Tinker and Claus could see were his laser pistol (waving erratically) and his medi-kit. "Cover me! I've always wanted to say that." Zhaxier said, feeling brave for the moment and smiling a blended smile. He hoped that the elevator would at least get them back to the level on which he had been born.
"Okay, you're covered, but make it quick! Claus, watch the door for a moment!" Tinker gave the room one last sweep. There were other locked cabinets but there was no time to open them. Tinker took Zhaxier's discarded laser rifle and the paralysis dart gun from the table. For want of holsters or sling-straps, Tinker hauled their loot away firmly under one of his arms. "Waste not, want not."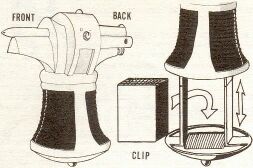 paralysis dart gun (pax)
Tinker took a stance behind Claus. "Okay Sundance, I'm ready when you are!"
Claus pawed the shotgun playfully and looked at the robot. "Ready. Alright Cassidy, let's do it!"
Zhaxier looked both ways instinctively as he rushed across the corridor into the elevator. He saw three security robots approaching from one direction, and four from the other. Both were still over 30 meters away. Claus bounded the expanse right behind Zhaxier as heavy laser fire crisscrossed the corridor like a Karedrian light show. Claus backpedaled but couldn't stop on the slick duralloy floor. He slammed into the back of the elevator with a grunt. Claus's cat-like dexterity kept him standing. He rubbed his nose and mumbled, "stupid wall!" Similar bursts of energy fire scorched the paint off Tinker's backside as he waddled across, but none scored a direct hit and he too made it into the elevator.
Zhaxier scanned the multitude of buttons. Numbers V12 to V98 were in one line and H12 to H98 were in another. The door closed behind Tinker and the elevator buzzed to life. Because he was thirsty, Zhaxier pushed H20. But as he did, he realized that the 'vator was already moving up. "Curious. It's preprogrammed," he thought.
"Something that you both should know," Tinker said while the elevator ascended, "those Arnolds might be using Zhaxier's unique bioelectric signature to track him. I doubt that they're gastrobots, but you're a clone of an engineer, and they want engineers because security 'bots cannot repair themselves. They don't know that your persona implant only has a superficial knowledge of who you are and where you're at. If they catch you, Zhaxier, they'll kill you, but not right away. There's only one way I know of to break their lock on you. We're going to have to get to the hull as soon as possible. We're going to have to find a repair bay, or an airlock, or even a docking port, and get you off the Warden for a little while."
Claus and Zhaxier listened to the robot, but the idea of leaving Warden seemed far removed at the moment.
"Tinker, remind me later to ask you to explain what you just said, only in common English---you know, the kind mere propulsion engineer clones can understand. Crikey! Sounded like it came straight outta my applied quantum mechanics text!" Zhaxier's words trailed off into a low mumble as he pondered spacewalks and being robot food.
"With that kind of tact, I'm glad you're an engineer and not a psychiatrist," Claus added with a toothy grin.
"Spoilsport," Tinker emitted in Zhaxier's direction.
Some time later, the doors opened, but not the ones in front of them. The trio turned around to face whatever menace awaited them. The elevator made a slight ding as the doors opened fully. Outside, they saw a lush dense forest.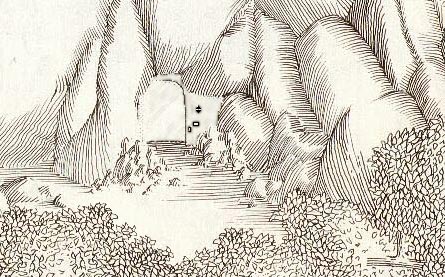 Zhaxier's heart leapt as he took in the forest scene. Could this have been the same enviro-bay where he left his pod-mates? Thoughts of H20 and his friends comingled: he hoped they had found food and water. The nanobots did wonders for his wounds, but absolutely zilcho to quench his hefty hunger and thirst. Neither could they serve to identify the source of the ensuing snippet of H20 inspired memory: skinny dipping with "E" in a stream running through a similar enviro-room. Frak it, who was she? Why couldn't he remember?!
"This is more my style," Claus said, looking out the door. "I see nothing hostile, but that could change."
Perhaps to force his thoughts into more familiar territory, Zhaxier grabbed at his waist for his data pad. His hand came up empty, but he rediscovered a new instinct. Realizing with some embarassment that he was naked, and that he therefore couldn't possibly be wearing a data pad belt holster, he sighed. Thankfully, he was blended as well, so Claus and Tinker didn't see the awkward moment.
Composing himself, he found his pad in the medi-kit bag, unblended, and looked up at the elevator level display, but unfortunately, with no power, there wasn't a number displayed. Nevertheless, he located the weapons locker room, followed the corridor to the elevator and then triangulated to the environmental room. Indeed, they were in the same environmental bay, but a good distance directly north of where the others had entered. With a few more taps, Zhaxier brought up a display of the nearby portion of the environmental bay layout. "Sweet!" he said out loud, causing Claus to look at him oddly.
Tinker removed the control panel from the elevator and started tinkering. "I see one problem. The power has been cut off to the elevator. I can disable the remote control, but without power it's not going anywhere anyway. Those security 'bots will have to find another way up here. I'm also setting up an override on the door controls so we can rest inside and not worry about being surprised. When I'm done, I'm going to have to do a shutdown for four hours to recharge my batteries and to do a self-diagnostic. You two can go out and play while I'm doing that."
"I don't play!" Claus said matter-of-factly, but he liked the idea of investigating the forest.
Tinker finished the job in a few minutes as Zhaxier and Claus cautiously left the elevator. "While you're out there, look for some canvas or beta-cloth (fiberglass cloth) so I can make some holsters, rifle slings, and maybe a backpack."
Tinker closed the elevator doors manually, jamming the manual release with a piece of scrap metal. He laid his weapons out around himself in a semicircle for easy grabbing, and then did a full shutdown so that his cold fusion power plant could recharge his batteries. Mentally, Tinker went into VR rejuvenation mode, where he could explore a vitual world with a virtual organic body (dreaming). He was content, for the moment.
---
14:00 SCAN ENVIRO-TERRA ROOM
14:02 PROCEDURE BETA INITIATED
14:03 CONTINUING SURVEILLANCE-LINK
.........-STATUS: 3 INDIVIDUALS IN TERRA 239837-E11
14:04 CONTINUE PROGRAM:
.........-FAIL SAFE 2
.........-CONTAIN A1 GROUP 1 / CONTROL ROOM
"A ripple in the air as the thing moved, eh?" Chelydra pondered. Invisible entities, friendly or not, did nothing to settle Chelydra's nerves. Zhaxier's amazing technicolor skin and Percy's uncertain form were bad enough to deal with. At least Nike and Amanda seemed normal so far. His mind strived not to think about a possible kinship between himself and the wolf-men they had just defeated.
Amanda bit her lip and shook her head. "I've seen wonders here few would believe," she said enigmatically.
Returning his focus to Amanda, he asked, "Is there anything else you might have noticed about your benefactor? Does it leave tracks, or make any sound?"
Amanda fidgeted as she listened to his questions. "I've never noticed any tracks before, but I've never searched for any either."
"Does it always come at the same time of day," Chelydra continued. "Does it always leave bread and apples? Not that I'm complaining---they sure beat food cubes and nutri-paste."
"It comes when I leave the empty bag outside and yes, it always leaves the same food." Amanda's fingers hesitated and then straightened a wrinkle in the blanket as she relaxed with a glum expression.
"It's nice that you have someone who looks out for you," Nike added. "Clearly, if it were hostile, it wouldn't leave you food." (unless it's trying to fatten her up for the big dinner ... Nike thought to herself cynically, but that kind of comment would only hurt morale and heighten tensions.) "Still, I wonder why this creature or person doesn't make any attempt to communicate," she continued. "Perhaps it can't, or is afraid to?" Nike adjusted her plastic body armor, which was digging into her side.
It seemed clear to Nike that Amanda was still nervous. Perhaps by taking some of the questioning away from Amanda for the time being, the girl might be put at ease. Besides, they had a lot of ground to cover with everyone. Nike turned to Chelydra. "So Chelydra, what do you recall about your duties aboard the ship, and about the ship's systems? Anything?"
"Well I'm not sure how much I remember. Most things seem kind of more like instincts than memories. Even my name. 'Chelydra' is more what I am than who I am. I think I used to work in security. I know I feel a lot more comfortable now that we're back inside. I just don't like those open spaces out there. As for the rest of what's happening, I'm in the dark as much as you. I must have missed the briefing on what to do when you wake up and find a food proccessing robot trying to make turtle soup out of you," he added with a grim chuckle.
Percy, frustrated at not being able to retrieve any other information from the computer terminal, turned towards his companions. He licked his fingers with the realization that came, not as a shock but as something of significance, that he'd just finished eating his first meal as a clone. He pointed a crooked and non-threatening finger at Amanda. "Good apple. Thanks for the food. That apple was the best meal I've had all day. Heck, it's the only meal I've had all day. Or EVER, for that matter!" Surveying the room again briefly, he added, "Nice house too. But enough about our room and board. Let's see, time to play 'Get to Know Me,' eh?" He talked facing Amanda, mostly, but gave attention to Nike and Chelydra, too. After all, he had met all three of them in the last hour. Percy remembered his desk, and faint memories of his past life came back to him in a jumbled order. "I don't remember everything about my past - that is, before I woke up in the clone bay. I remember I used to be a systems technician," he looked awkwardly at the patch blazing proudly in bold colors on his uniform shirt. "And I distinctly remember not being a werewolf, too. Waaaaitaminute ...!" Suddenly Percy swiveled around to the vid-screen.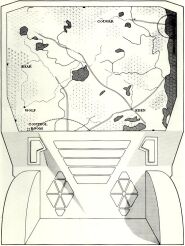 "Werewolves, hm." He pointed at the location on the map denoted by WOLF. "Maybe we clones aren't the only ones whose genes got scrambled," he said staring and pointing at the screen. Turning back to the others, he apologized to Amanda as if he was their chosen representative. "I mean, we're clones, anyway. Hey, what year is it? I mean, how far along on Warden's journey are we?"
"I woke up in a clone bank too, Percy. Seems like weeks ago. I have no idea what year it is." Amanda seemed surprised that she so easily used Percy's name, almost without thinking about it. For the first time, she didn't seem frightened of Percy. She was much more relaxed now that they were all seated and speaking to each other and the pressure of their meeting was gone.
Nike's thoughts were disturbed by disjointed memories ... she and other pilots stood in a hanger area and received mission orders ... all dressed nearly identically, with helmets and flight suits. Frustrated, she forced herself to do some mental exercises. She calmed herself and centered her focus. She opened her eyes and said, "I was a Captain in the marines, special forces division. I can remember bits and pieces of missions, assignments, security concerns, and operation of weaponry, spacecraft, and repair machinery, but nothing is very clear or solid yet." She paused and took another bite from her apple. <CRUNCH> "It does seem that the more I see of the ship, the clearer my memory becomes. Are you guys finding that to be true for you?"
Amanda piped up, "somewhat, I remember my room. I had a pink stuffed animal named Frodo. I remember I worked as a teacher, but only bits and pieces of my job are clear to me." Amanda sighed.
"I'm still in a fog about most things," Chelydra offered. "I guess they mixed a bit too much turtle in. Speaking of which, I've been wondering about the clone program, do any of you remember any more details about it, or why some of us might have come out so 'different'? There must have been hundreds of clone pods in that room, did anybody see if there were going to be more of us? In all the excitement I didn't get a chance to look."
Chelydra's words felt hollow as no one seemed able to answer them. He was right: no one had taken the time to look into the other pods. An awkward silence passed between them as Chelydra fidgeted.
Chelydra was the first to break the silence, "Amanda, have you seen any signs of friendly people, besides us? Or any kind of central authority?"
"No, I haven't. Just you three." Amanda answered quickly, even before Chelydra had finished asking. Amanda suddenly felt uneasy again and fiddled with her pocket to appear active.
Nike immediately became suspicious. Had she anticipated the question and been prepared for the answer? Why would she need a prepared answer for such a simple, straightforward question? She was lying. Nike's instincts made her almost sure of it. But in this situation, it wouldn't do anyone much good to call her on it, not just yet. "Besides," Nike thought, "I have no proof. It would be my deductions and instincts against her word. Not the best situation for a group of already tense and scared people. That's right, dammit, we are people. So what if we are clones? Clones or no, we still have the will to survive, and even to thrive." She knew that once relationships had a chance to be established that they would even have real feelings---not just the primal ones that drove them presently.
Chelydra felt urged by either old instincts, or paranoia caused by their strange new world (he wasn't sure which) to inspect their camp's perimeter. A general silence fell as Chelydra casually stood, picked up his shotgun and went to the front door. It unlocked when he turned the door handle. He glanced outside warily. The thick forest offered little visible distance---just familiar trees and brush. Former memories of standing guard at a high security guard station flickered in Chelydra's mind. Seeing nothing new, he stepped back inside. The door closed and locked again automatically.
Crossing the room, Chelydra tested the other door, but it did not yield to his force. He tapped the duralloy door and considered his options for opening it. After a while, Chelydra said, "either this door requires a special key or it's a one way door. Amanda, do you mind if I take a look around and see if I can find a key or something to open that door?" Floating somewhere just out of reach in his mind was a document entitled "Search and Seizure Protocols for Civilian Living Quarters." It was important to Chelydra to follow the book, although he wasn't at all sure that situations such as this were covered anywhere in it. Still, it seemed rude to just tear up Amanda's place looking for a key.
"Uhm, I don't mind, Chelydra. It is my lodging, but I don't consider it my home, not really," she admitted, albeit reluctantly.
Nike, had been silently contemplating Amanda when she noticed that her eyes went to the door and then beneath the desk, and then away, as if there were some correlation between the two.
"Hmm, what do we have here?" Nike silently wondered at Amanda's eye movement, "Someone does indeed know more than she's telling."
"Hey Chelydra," Nike said, "since your specialty seems to be security-oriented, why don't you check out the underside of that desk, see if there's a trigger there for opening the door, like a hidden button, maybe?"
"Why are you under the impression there would be a trigger for the door, not that it matters, just curious," Chelydra lied. Maybe it was something Amanda had whispered to Nike, Chelydra thought. His resolve renewed, Chelydra walked from the door to the desk, squatted down and promptly discovered a button. He pushed it; the door buzzed and popped open.